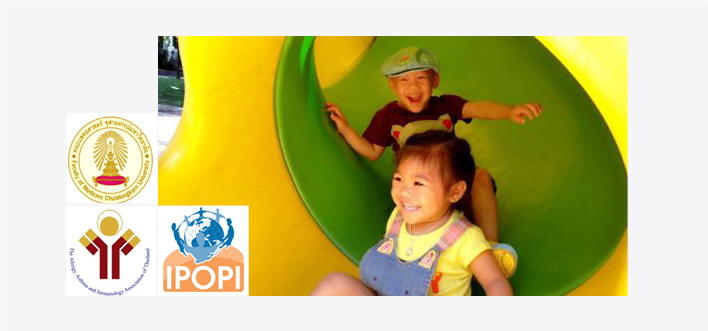 In order to raise awareness of rare diseases in Southeast Asia, the Care-for-Rare Foundation together with Chulalongkorn University Bangkok initiated a "German-Thai Alliance for Better Care of Children with Rare Diseases". For this purpose, Care-for-Rare organized the first international "European South East Asian PID Meeting: From Bench to Bedside" in the Thai capital in January 2015. The event discussed the current challenges in the field of primary immunodeficiencies (PGD) in the Southeast Asian region and drew attention to specific needs and challenges in research and therapy. The meeting marked the official launch of our collaboration with Chulalongkorn University Bangkok and other collaborative partners in Southeast Asia.
International cooperation is particularly important in the field of rare diseases, as patient numbers are low and there is a lack of expertise. Thailand and Southeast Asia still have some catching up to do with Germany in terms of care, research and treatment options. There is also not nearly enough awareness of the issue in the political arena. As one of the basic principles of the Care-for-Rare Foundation is to help affected children beyond national borders, the Care-for-Rare Foundation takes this cooperation as an opportunity to support other regions of the world in their efforts to improve care for patients with rare diseases.
The alliance is supported by the former Thai ambassador in Munich, Dr. Charivat Sanaputra, who has taken over the patronage for the initial event. He is known for building bridges between Germany and Thailand on a wide range of social issues. Other supporters of the cooperation are the "International Patient Organization for Primary Immunodeficiencies" (IPOPI), the "Allergy, Asthma and Immunology Association of Thailand" and the German-Thai Chamber of Commerce. The economy can also benefit from cooperation between Germany and Thailand, as research and development can advance technology and innovation and open up new markets.

Another component of the cooperation is a visiting scientist program, which allows young scientists from Thailand to come to Munich for several months to be introduced to the latest findings on research and treatment of rare diseases. The resulting findings from research on rare diseases can also have great significance for common diseases. For example, research on rare diseases has already led to the development of a therapy for cancer. Thus, patients in Southeast Asia benefit from our expertise and we gain a wide network of competent cooperation partners in Southeast Asia.
"Partnering with the international Care-for-Rare Foundation, we promote public awareness for rare diseases and enjoy being a part of an even larger network dedicated to train future leaders in pediatrics.
C4R has had a wonderful impact on how we currently rethink our responsibility for children with rare diseases and on how we will direct future research studies aiming to cure children with rare diseases."
Kanya Suphapeetiporn, MD, PhD
Head of Division of Medical Genetics and Metabolism
Faculty of Medicine, Chulalongkorn University, Bangkok